Veterans, family members and others who were stationed, lived, or worked at Marine Corps Base Camp Lejeune between 1953 and 1987 may have been exposed to water contaminated with toxic chemicals.
People who were diagnosed with cancer and other illness caused by Camp Lejeune water contamination may be eligible for compensation through the Camp Lejeune Justice Act. CLICK HERE FOR OUR TOWN HALL SCHEDULE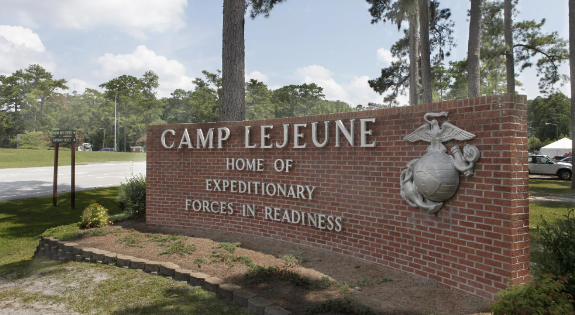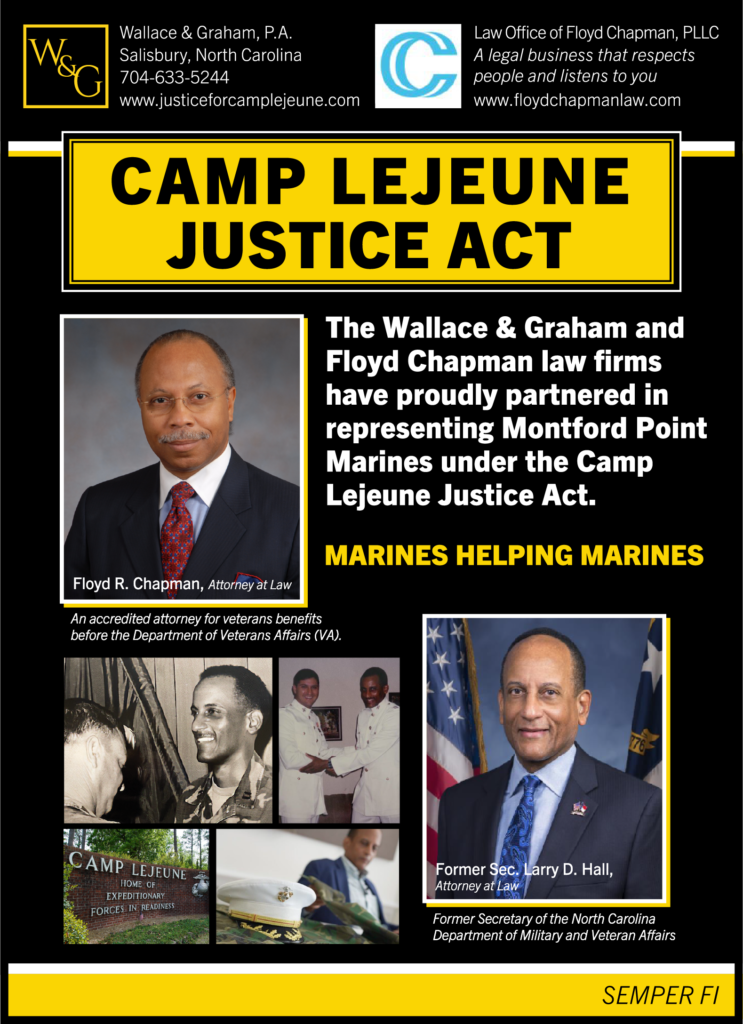 What We Know About the Camp Lejeune Lawsuits
Volatile organic compounds were detected at Camp Lejeune in 1982 and traced to drinking water coming from two of the eight water treatment plants on the base. The U.S. Department of Veterans Affairs (VA) reports that from 1953 to 1985 the systems that supplied drinking water to two housing areas at Camp Lejeune were contaminated with industrial chemicals. During this period, close to 9,000,000 service members were potentially exposed to this harmful water, according to the VA, making Camp Lejeune one of the worst cases of water contamination in U.S. history.
The discovery of contaminated water at Camp Lejeune prompted VA to establish a presumptive service connection, meaning that servicemembers who were exposed to contaminated water at Camp Lejeune between August 1, 1953, and December 31, 1987, and are diagnosed with certain diseases and conditions need not establish a link between the disease or condition and active-duty service in order to receive VA disability benefits.
What Were the Contaminants Found in the Water Supply at Camp Lejeune?
In the 80s, water-supply systems at Camp Lejeune were found to be contaminated with a group of chemicals known as "volatile organic compounds." These chemicals included the following:
Trichloroethylene (TCE), a metal cleaner

Tetrachloroethylene, a dry cleaning agent

Benzene, a chemical found in gasoline

Methylene chloride, a chemical solvent used in labs and to remove paint

Vinyl chloride, a colorless gas used to make polyvinyl chloride, which is used to make plastic products
Various Conditions
Related to Contaminated Water at Camp Lejeune
Bladder cancer

Breast cancer

Esophageal cancer

Female infertility

Hepatic steatosis

Kidney cancer

Leukemia

Lung cancer

Miscarriage

Multiple myeloma

Myelodysplastic syndromes

Neurobehavioral effects

Non-Hodgkin's lymphoma

Renal toxicity

Scleroderma

Parkinson's disease
LEGISLATION
The Camp Lejeune Justice Act is a federal remedy to provide the residents of Camp Lejeune, military, civilians and their families with restitution for their injuries loss and suffering.
The Camp Lejeune Justice Act of 2022 allows anyone who lived or worked at the base between 1953 and 1987, for at least 30 days was exposed to its contaminated water and sufferred relevant serious injuries to file a claim against the U.S. government. Victims can seek appropriate relief for harm incurred due to the water contamination.
Who was exposed to the toxic water and for how long? Many people at Camp Lejeune for 34 years, over one million people.
Marines, sailors and civilians were exposed to toxic chemicals in the base's water supply for over three decades.
In 1982, the U.S. Marine Corps learned that members of the U.S. military, their families, and civilians were exposed to toxic chemicals in the base's water supply over a 34-year period from 1953-1987.
Three water-distribution plants — "Hadnot Point, Tarawa Terrace, and Holcomb Boulevard — "have historically supplied finished water to the majority of family housing units at the Base and were contaminated with volatile organic compounds (VOCs). Source ATSDR: For More Information
Housing units affected were….
Mainside barracks
Hospital Point Family Housing
Midway Park Family Housing
Paradise Point Family Housing
Berkeley Manor Family Housing
Watkins Village Family Housing
Tarawa Terrace Family Housing (A source of contamination was ABC One-Hour Cleaners, an off-base dry cleaning firm.)
Knox Trailer Park
How many times over the safe exposure limits were the chemicals? Up to 280 times.
From the 1950s to at least 1987, the drinking water was contaminated with chemicals at levels up to 280 times higher than what is permitted by safety standards.
In 2011 the U.S EPA declared TCE was a known human carcinogen and established a maximum exposure level at 5 parts per billion in the drinking water.
A May 1982 drinking water sample taken from Camp Lejeune's Naval Hospital was found to contain TCE at 1,400 parts per billion.
Our Camp Lejeune attorneys will work to recover the maximum financial compensation for your losses which occured from your exposure to contaminated drinking water at the military base.
What Compensation Is Recoverable in a Camp Lejeune Lawsuit?
The amounts that claimants can receive in Camp Lejeune verdicts or settlements depend on multiple factors, including the type and extent of disease or health condition suffered as a result of exposure to the base's contaminated water.
Generally, this type of action will involve several types of recoverable damages, including (but not limited to):
Medical treatment (past and future)
Lost wages (past and future)
Pain and suffering from injuries, treatment & recovery (past and future)
Diminished enjoyment of life (past and future)
Diminished earning capacity
Possible punitive damages
If you or a loved one have any of the injuries listed above or related injuries please fill out the form above or Call us at 833-MAS-TORT or 833-627-8678.
The Law Office of Floyd Chapman, PLLC is associated with major law firms in the mass tort and medical device areas to litigate your claim.
The information you obtain on this website is not, nor is intended to be, legal advice. We invite you to contact us and welcome your calls and inquiries. Contacting us does not create an attorney-client relationship. Please do not send any confidential information until an attorney-client relationship has been established. Attorney Floyd Chapman is responsible for the content of this website. Law Office of Floyd Chapman, PLLC, 1201 Pacific Avenue, Suite 600, Tacoma WA 98402.